God is not unjust
;
He will not forget your work and the love you have shown him as you have helped His people and continue to help them.
I have surrendered to Sabbath. It is time for quiet, time to serve, time to reflect. May His Peace be with you...Off to do the AIDS Walk in Central Park
(my Sunday FB status update)
(it took awhile to get this posted. Lately, when Sabbath comes, I am in full surrender. Sometimes, surrender is about acting for the greater good. Read. Enjoy.)
On this Sabbath, I was blessed to serve. On Pentecost Sunday, when so many Christians engage in corporate worship, attired in red to honor the alighting of the Holy Spirit, I got soaked in New York's Central Park alongside nearly a million members of my tribe. Those who heed the call. My people. We weren't friends, in fact most of them I'd never even met, but we were joined in service. According to
AIDS Walk
event creator and producer Craig Miller,
In 1986, about 6,000 very visionary people from throughout the Tri-State Area came together to launch a strong and compassionate response to the AIDS epidemic at a time when government and the media were doing very little to help, and over the decades it has proven to be a key source of support for GMHC and New York City's fight against AIDS.
Interestingly, this year's walk theme was "Community." We were, all of us, collectively, in communion with a common goal.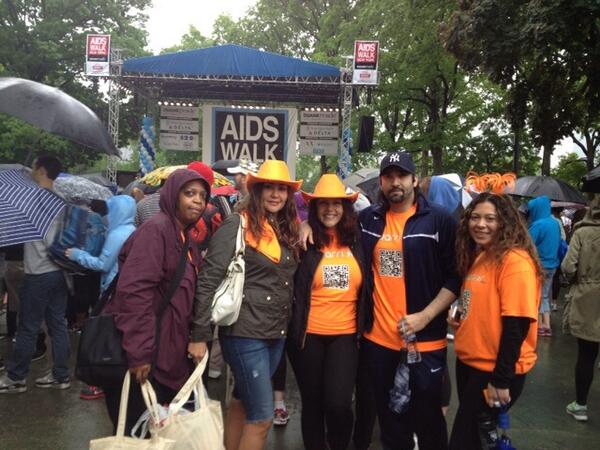 More of church needs to happen outside the walls
because it all matters. He never forgets the
works we do or the love we show His people.
SHARE THIS CHALLENGE
How and why do we serve? Chatting with the friend who invited me to participate, (I walked with a team representing
URAWarrior.com
) we shared our disappointment that neither my church nor hers even considered putting up a team. We were encouraged by the diversity of the event, that so many young people, families with children and Corporate sponsors were out in force, but where was the body of believers?
I thought of Jesus healing the leper; serving the least. It's not like those were popular choices then, and they don't seem any sexier now. My call to action was clear…we've got to do better.
How often do we actually put into practice, "WWJD?" Does it frame and inform every action? How about all the words we say, or every single approaches we take, not just on Sundays but in every area of our lives? I know my answer-social justice should be a sacrament.
I'm glad I got wet. Soaking in the rain was today's wake-up call. More of church needs to happen outside the walls, and I'm starting here and how. I'll be doing more. I'm committing to more consistent deliberate action in everything I say and do; because it all matters. Because He never forgets the works we do or the love we show His people. We need to be about paying it forward. In Jesus' name. Amen.